Today we are in Kingman, AZ. Kingman is one of those towns that has some really cool old and Route 66 stuff. So, let's get started.
Maybe next time I'll do Route 66 and just get pictures of the grain towers and water towers. That might make for an interesting book. Or maybe not. But, like I said, there are a lot of cool, and sometimes strange, things to see in Kingman. Such as the obligatory Route 66 Motel.
Now .. maybe someone can explain why people do this.
Now, when I was growing up .. ABC meant something specific. Why would anyone have that as part of the name of their restaurant?
Anyway, there are a lot of motels in Kingman.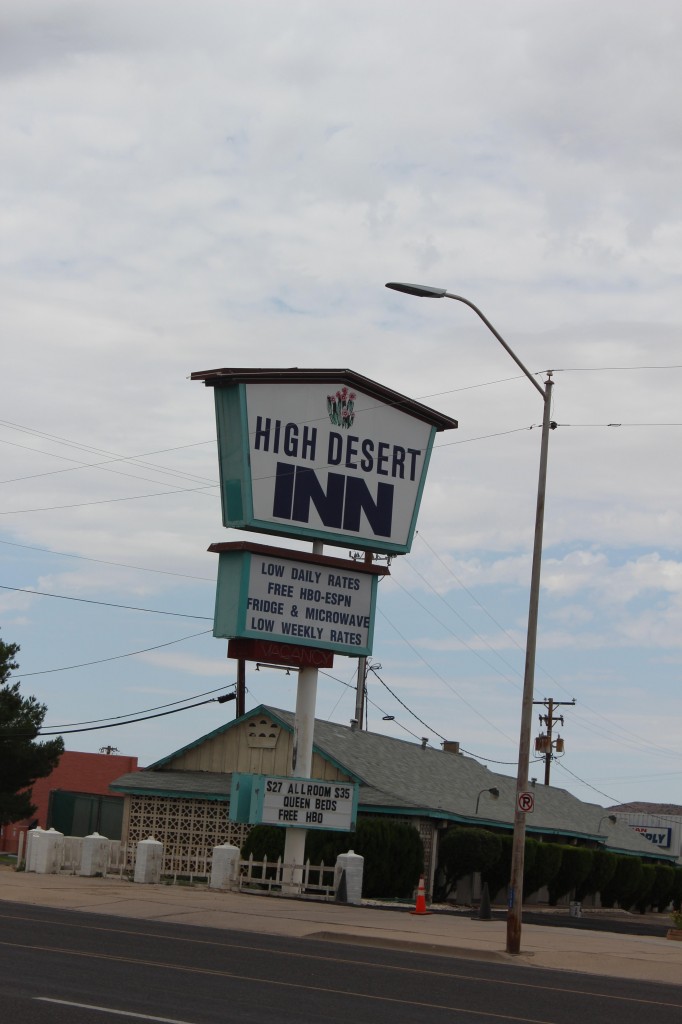 Here's another one.
Did you catch the sign to the left? Here's a closer look.
When was the last time you ever heard of a Zenith Chromacolor tv? :O)
Anyway, we find a place to have a little breakfast.
Remember Russell's Travel Center in New Mexico? Well, Mr. D'z thinks the same way.
And every good diner needs a jukebox.
Now to the food. Trevor had Huevos Rancheros.
I, evidently, had some sort of omelet.
And whenever possible, biscuits and gravy! This is the first place that had a sausage gravy.
They even have their own brand of root beer.
As we were leaving Kingman, I noticed this wall. Just had to get a shot of it.
Here's a shot of the landscape we're going into.
In the mountains, I run across an interesting little building. The place is called Cool Springs.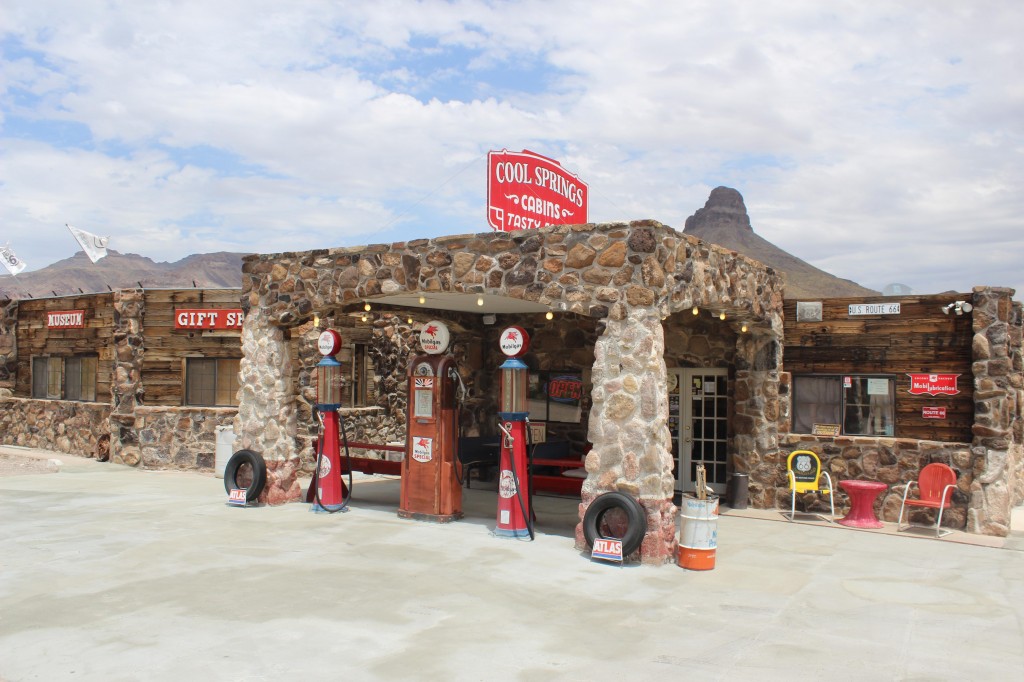 We finally reach the summit of this little highway.
Most of the trip has been on flat land or wide roads. Now the roadway is narrower and windier. Take a look.
And gotta drive all the way down …
Finally we enter Oatman, AZ. Oatman is pretty much a ghost town now. It just caters to tourists. Oatman was a mining town and the miners would bring their burros with them. Now all that remain from the mining days are the burros.
But, like I said, everything is geared toward the tourist. Here's an example.
More examples.
Now, this last one did have one cool feature. Did you know that you are not allowed to cut down a Saguaro cactus? The Wine Barrel Company did this …
I understand that this particular Saguaro is 150 years old.
More tourist traps.
Now, even amongst all of this kitsch, there are still little gems that you can find. This is one of them.
Pretty neat, huh? And then you take a step back and see the rest.
Let's now leave Oatman, AZ with a shot of the only real thing there.
Finally we reach California. Here is a shot in Needles.
And we eventually get to Barstow, CA. Nothing between Needles and Barstow, that we saw. Barstow, on the other hand, had plenty.
What I like about various portions of Route 66 is the re-tasking of businesses. This one looks like it used to be a service station. Now it is a restaurant.
Never heard of this place before .. sounds intriguing.
Well .. today has been fun .. enjoyed the drive through the mountains. I enjoyed Oatman even though I think they've lost sight of what Route 66 is all about. We are almost at the end of our journey. Next we go from Barstow to Santa Monica, the end of the line for Route 66. I hope you've enjoyed this trip as much as I have.
Until next time.